Energy
Content is being uploaded...
he energy sector was responsible for 72% of total GHG emissions in 2019. Production and use of energy generate most greenhouse gases, largely CO2. Currently, 16% of domestic primary energy supply is nuclear, 12% is renewable which means that the remaining - overwhelming - part of primary energy demand has to be met by fossil fuels. Natural gas accounts for the largest share (44%) of incinerated, largely fossil fuels, followed by an increasing share of petroleum products (33%). Emissions have been positively influenced by the fact that the proportion of coal with higher specific emissions has fallen from 30% to below 10% in the last 30 years, which is well below the current share of biomass in fuel consumption (14%).
In recent years, the transport sector became the largest emitter, not only within the energy sector (32%) but also across all sectors, as transport now accounts for 23% of total national emissions. Emissions from the road transport dominated sector increased by 6% in 2019 and altogether by 46% since 2013.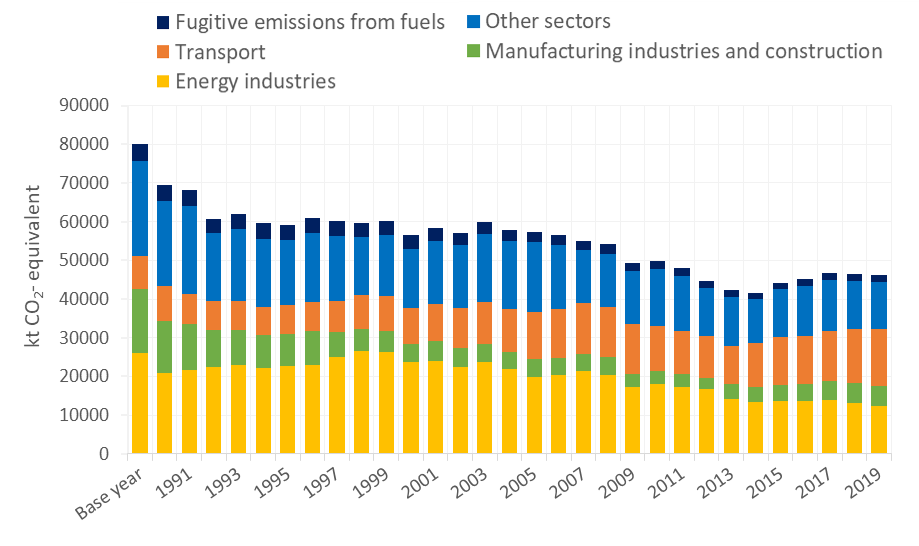 Figure 1: Trends in emissions from Energy between 1990 and 2019
The share of the energy industries in total emissions decreased to 19% from 26% in 2005. Although domestic electricity production was 7% higher than in the previous year, coal-based power production dropped by 13% whereas natural gas fired power plants with more favorable specific emission levels increased their production by 18%. Another welcome development is the sharp increase in the use of solar energy: 4% of gross electricity production now comes from solar energy. The share of nuclear power generation has been stable at around 50% over the last few years. (The relatively large share of electricity import decreased from 31% to 27%. Also, decrease of heat production could be observed (-3%), which was probably due to milder winter weather with a 3% lower heating demand. In energy and heat production, the use of conventional fossil fuels (coal, natural gas) has declined, while that of renewable and waste has increased. As a result of all the above, emissions from the energy industry decreased by 5% in 2019.
The mild winter also affected households' energy use: in 2019, total fuel consumption in dwellings decreased by 4%. The use of natural gas (-2%), coal (-26%) and firewood (7%) has all decreased. (It is worth noting that the use of the two main energy sources often change in opposite directions: since 2005, natural gas consumption has fallen by 30%, while firewood has increased by 33%.) The share of the "other sector", including residential and other buildings, has fallen to 19% in 2019 from 23% in 2005 within total emissions.
Energy use and emissions from manufacturing industries and construction did not change significantly in 2019, (-1%) their contribution is 8% to domestic total emissions. Fugitive (mostly methane) emissions from the domestic natural gas system represent 3% of total emissions. (Please note that there has been a significant revision of emission estimates from the latter source category.)
Opposite processes in the energy sector - rising emissions from transport, falling emissions from households and the power sector - almost equalized and eventually led to a small (0.5%) emission reduction in 2019.